Pat Summitt Steps Aside As Vols Coach And Leaves A Special Legacy
When you talk about Tennessee Vols women basketball the name Pat Summitt will be forever linked to it. Today, she stepped down as head coach and will be a special adviser to the program. Summit leaves with eight National Titles to her credit and over 1,000 wins as a head coach.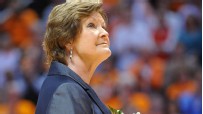 Pat Summitt
diagnosis with early onset dementia-Alzheimer's type and everyone knew it would be just a matter of time before she stepped down. Her legacy will be one of a great coach that did things the right way on and off the court. She molded young ladies into leaders and taught them a lot. She will be missed by her players, but it is good that she will still be around it. Pat Summitt was one of the good ones and will be missed as a coach, but most of all as a mentor on a daily basis to her layers.