How Much Longer Can The Dallas Cowboys Stick With Tony Romo?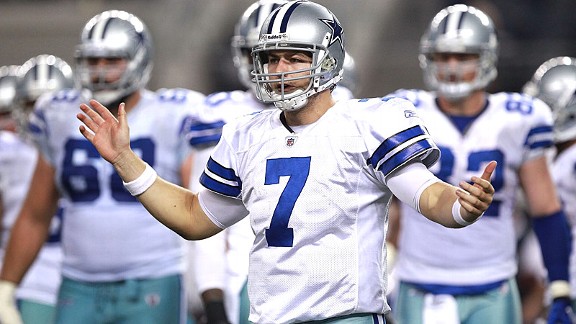 The Dallas Cowboys have some serious decisions coming into the season. What direction they want to go, but most of all how much longer can they go with Tony Romo at quarterback. Jerry Jones feels he is the quarterback to lead them to the Super Bowl, but others are not so sure he is the answer to the Cowboys issues. Romo has played well at times, but has also cot them games in the process. Tony Romo just does not seem the right fit in my mind for the Dallas Cowboys at quarterback.
One of the biggest problems the Cowboys have is they do not have anyone to take Romo's place. Jon Kitna, Kyle Orton, and Stephen McGee are not names that will scare any NFL defense these days. This means the Dallas Cowboys will need to have Tony Romo be their No.1 quarterback for the time being. At some point though the Dallas Cowboys may need to decide Tony Romo is just not what they need. The sooner they make this decision I think the better the Dallas Cowboys can get in the future.